Contact Us
Thank you for taking a few minutes to look over our Club. We hope that you were able to find answers to all of your questions, but we realize that may not always possible on a webpage. We would love to hear your comments, questions, and concerns, or maybe you would like to arrange a visit to see our aircraft at Chandler Airport.
If you would like to speak directly with one of our Board of Directrs, please call us at the number below. If you'd rather leave us an email, you can do so directly at info @ arizonacloudbusters.com or use the form on this page. One of our Board members will contact you directly!
Be sure to check our FAQs page for more information.
We also highly encourage all prospective members to come to our next scheduled Board of Directors meeting at Chandler Airport. We typically meet the second Monday of each month at the Chandler Airport Terminal. The date of the next meeting can be found on our home page.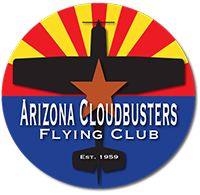 Arizona Cloudbusters, Inc.
4915 E Baseline Rd
Suite 105
Gilbert, AZ 85234